Vending-4-Pets: Vending service that donates to rescued animals!
Contact us today to learn more about our vending service for organizations with 35 or more employees - 800-454-2454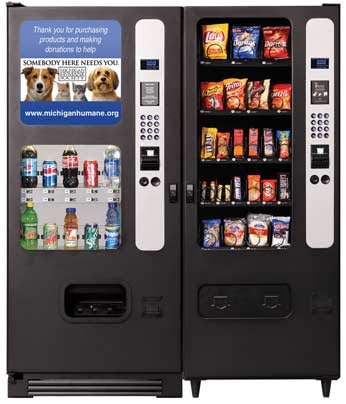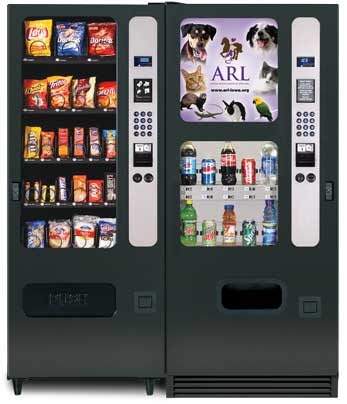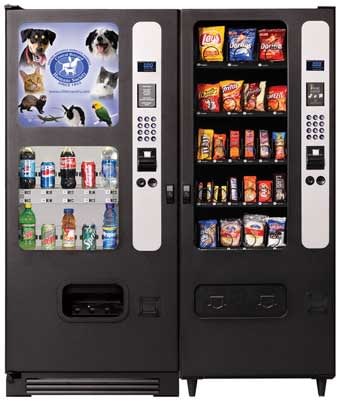 Free vending machine service to generate donations for rescued animals.
Brand New Machines and excellent Professional Service with your choice of refreshments!
Vending 4 Pets invites your customers and employees to support a local shelter or rescue league through the purchases they make from your vending service. Simply have us place our vending machines in your business. We fully maintain and stock them with your choice of snacks - drinks and donate to an organization of your choice! Choose your favorite snacks, drinks, pastries, food, bottled water and even healthy vending items. 100% of the donation box and 10% of the profits are donated. Our vending machines are ADA compliant in accordance with the American Disabilities Act.
Attention: Animal Shelters and Animal Welfare Organizations!
Receive monthly donations from our vending machines placed not only in your facility, but all over your community displaying your logo.
About Our Vending Service
Vending 4 Pets, A Wittern Group Company based in Des Moines Iowa provides high quality vending service in all 50 states to benefit animal shelter and rescue leagues in your area. There is no cost to the business or to the recipient of the donations. Our company has served the needs of the vending industry since 1931 with thousands of satisfied customers.
We provide vending services for snacks, sodas, drinks, cold or frozen foods, pet supplies, or whatever your vending needs may be. With every purchase, feel secure in knowing you are helping an animal shelter or rescued animal in your community. The benefits of our services far out-way traditional vending avenues. Flexibility with our programs and vending machine options make us the right fund raising vending choice. Call today to find out how we can help.
Our vending service is the best choice for vending and raising money for animal shelters.
Vending 4 Pets Has Made Headlines!
Our charitable pet vending machine service is your answer when it comes to raising money for local pet adoption facilities. Pet shelters all over the US are needing extra funds for cost of operation. Your business can help ease animal shelter's burden by raising money through vending. Give your customers snacks & drinks and they can donate extra cash with the convenience of a donation box. It couldn't be easier. Colorful graphics on the machines draw customers in and show them details of the organization being helped. Organizations are pleased with the vending services and are writing articles for the news, making headlines everywhere.
See what satisfied customers are saying about our service.
Press
Des Moines Business Record
Animal Shelterning
Atlanta Humane Society
Washington Animal Rescue League
Save-A-Pet
Questions Answered About Our Vending Service
•Q Is this program really free?
•A Yes! There is no cost to you whatsoever for the vending equipment or service. Your customers - employees simply make purchases from the vending machines as they wish.
•Q What products will be vended from your vending machines?
•A It is your choice! You select every item! We want to vend what you want to enjoy.
•Q How much do the products cost from your vending machines?
•A Our products are market priced for your area. You will pay no more than similar vending machines in your community.
•Q Will you help to have my existing vending service removed?
•A Yes. We are vending experts and will coordinate all aspects for a smooth transition.
•Q How long will it take to get your vending machines installed in our business?
•A It will take about two weeks from the time you grant us permission before the vending machines arrive.
Vending 4 Pets is a vending service that takes care of all the vending machine details so you don't have to. Let us show you how easy it is to raise money for animal shelters in your area.
For more information, please call us with vending questions at:
1-800-454-2454.
We look forward to hearing from you.

Vending Machines
Get more features & flexibility in equipment for convenience, product variety and more customer satisfaction. We are the world's largest manufacturer of individually owned vending equipment. Vending machines for your business are a great way to achieve your fundraising goal and help local pet shelters with their funding needs.Take advantage of our factory direct programs Vending 4 Pets offers. Whether you need snack vending, drink vending machines, or cold and frozen food combination vending machines, we have what you are looking for. Most equipment models come standard with delivery sensor technology guaranteeing selection delivery or customer is refunded their money.
Vending 4 Pets can help raise money for your local shelter and be a valuable service for vending customer satisfaction.Call today for your answer to the best vending service available.1-800-454-2454
Contact Us

Vending 4 Pets
8040 University Blvd.
Des Moines, Iowa 50325
Phone: 1-800-454-2454
Bill Fankell
bfankell@wittern.com
If you have questions or comments about our vending service, please feel free to contact us through email, fax, or phone. Let us show you how to start a vending business at no cost to you, all while helping rescued pets and animals at your local shelter.